One of the behaviours that my watch friend tease me about sometimes, is that I have often bought a used vintage watch not because I wanted it particularly, but because I wanted the bracelet it came with. When looking to buy old watches, IMHO, you should always try to get one on the correct steel/gold etc bracelet on the basis that if you don't like it, you can always substitute it for something else but you'll still have the proper one should you need to part with the watch in future. If you buy an old piece that's on a leather strap, or worse, a replacement aftermarket bracelet, you could spend years trying to find the "correct" one for it, and that might even involve buying a whole new watch as a donor.
One example – when I originally got the Tissot PR516 Chronograph reference 40528 (also featured in Video: Looking at Lemanias and was in fact the OG watch that the stuck case back, inspiring the article, How to remove the stuck back of a watch), originally came on an aftermarket bracelet. It's OK in look and feels pretty decent quality-wise (and importantly, it has the correct 19mm lug width) but it doesn't fill the gaps in the lugs properly so isn't "right".
So next up, I bought another Tissot with the same basic case shape, which had the bracelet I wanted. The plan had been then to dispose of that watch via a watch forum or eBay, only to find that I rather liked it and in fact it had a tale of its own… Tissot PR-516 – a knight's own.
Happy days, though – I later found yet another case variant which had the same bracelet again (for reference – this Tissot Bracelet has number 608 stamped inside the clasp – there were other options available in period, including a Kreisler Stelux model that Seiko people would call a "chiclet", though this excellent-feeling "President" style one is the most common).
This PR-516 Sonorous alarm watch (using basically the same A Schild movement as is found in the Citizen Alarm Date showcased in Don't let the Bells end) came up on an auction platform – it's a bit of a horror show, with no outer bezel and a load of silicone gunk holding the crystal on, but it was cheap. Even if I was going to throw the watch away, it was worth it for the bracelet. Remarkably, it did actually run.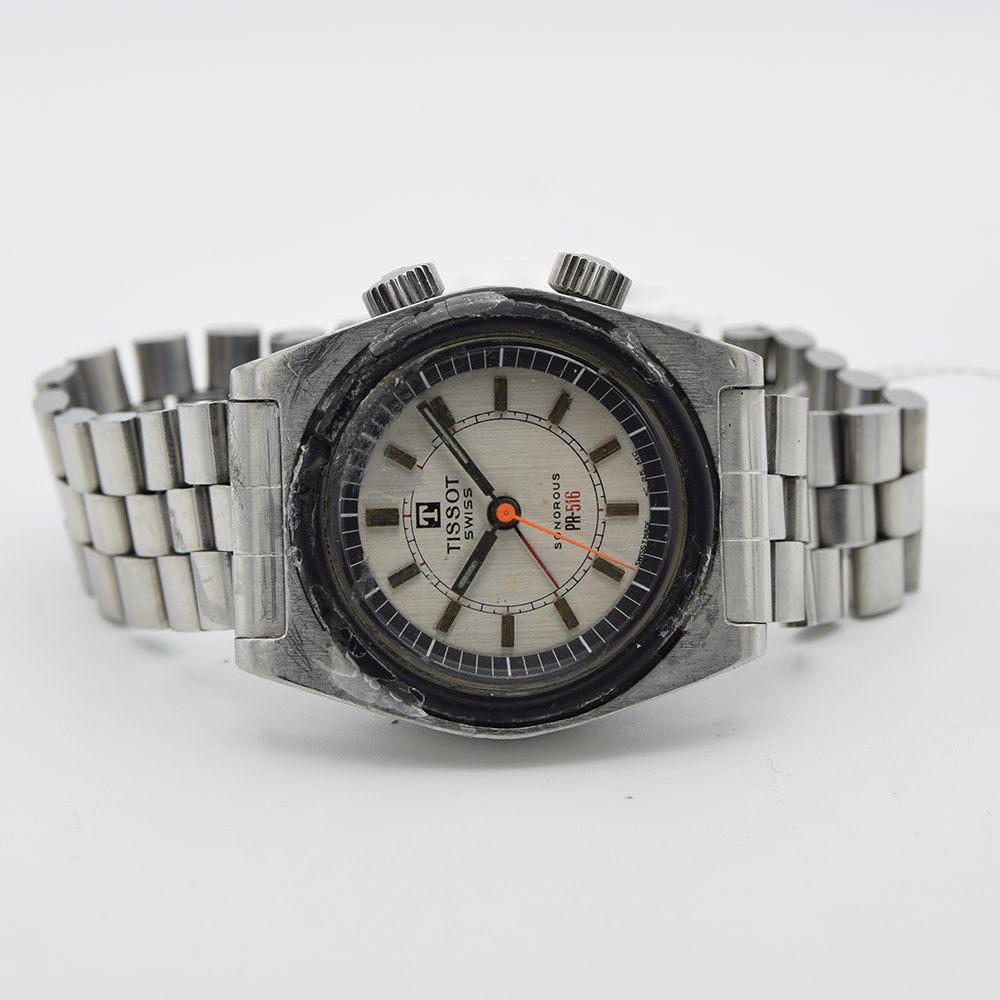 The gunk on the crystal also semi-hides the fact there is some of the inside track missing between 12 and 2, so it's probably not worth even fixing up. Still, the bracelet was long and strong and after a good clean, has made its way onto the Roger Moore watch. Even better news; after giving it a bit of a clean and firing it onto a cheapo rubber strap that I had kicking about, it went onto eBay and after fees & postage, it made nearly £70 more than the original watch costs me from the auction.
Winner, winner, chicken dinner!
More "bought for the bracelet" stories to come – potentially involving other Tissot chronographs too…