Watch manufacturers seemed to like putting lots of stuff on the dial of their watches; maybe the busier it looked, the more intrinsic value it was supposed to have. See the likes of the original Breitling Navitimer, whose current version still packs as much as it can onto the face of the dial.
Sometimes, a manufacturer could give a watch additional functionality without actually adding to any of its mechanicals. A watch with yacht timing functions, for example, can adorn a watch with additional displays like red or blue circles that will indicate when it's time for a race to start… but some manufacturers would just paint coloured segments onto the minutes sub-register of their chronograph watch's dial, and consider that to be the same thing.
The thinking here is that if you – as the skipper of a yacht about to race – would hear a countdown horn that would indicate, say 5 minuntes to go. You then try to position your craft so that you cross the start line at speed, as soon as possible after the race is due to go. Crossing the line before the start signal would mean being penalised, and crossing it too long after mean you'd be giving away too much to your competitors.
The idea of squinting at the small subdial of a relatively small chronograph to figure out if you're 4 or 3 minutes to go, seems a bit unlikely these days but maybe in simpler times…
Anyway, as well as printing lots of other stuff like slide rule calculators and multiple tachymeter scales onto the dial, some watch makers lover putting lots of text there too – like Rolex telling everyone what a SUPERLATIVE CHRONOMETER it was.
This week's subject is a watch from 1966, which goes by possibly the longest name of any watch ever – the Nivada Grenchen Chronomaster Aviator Sea Diver, often referred to collectors CASD for short.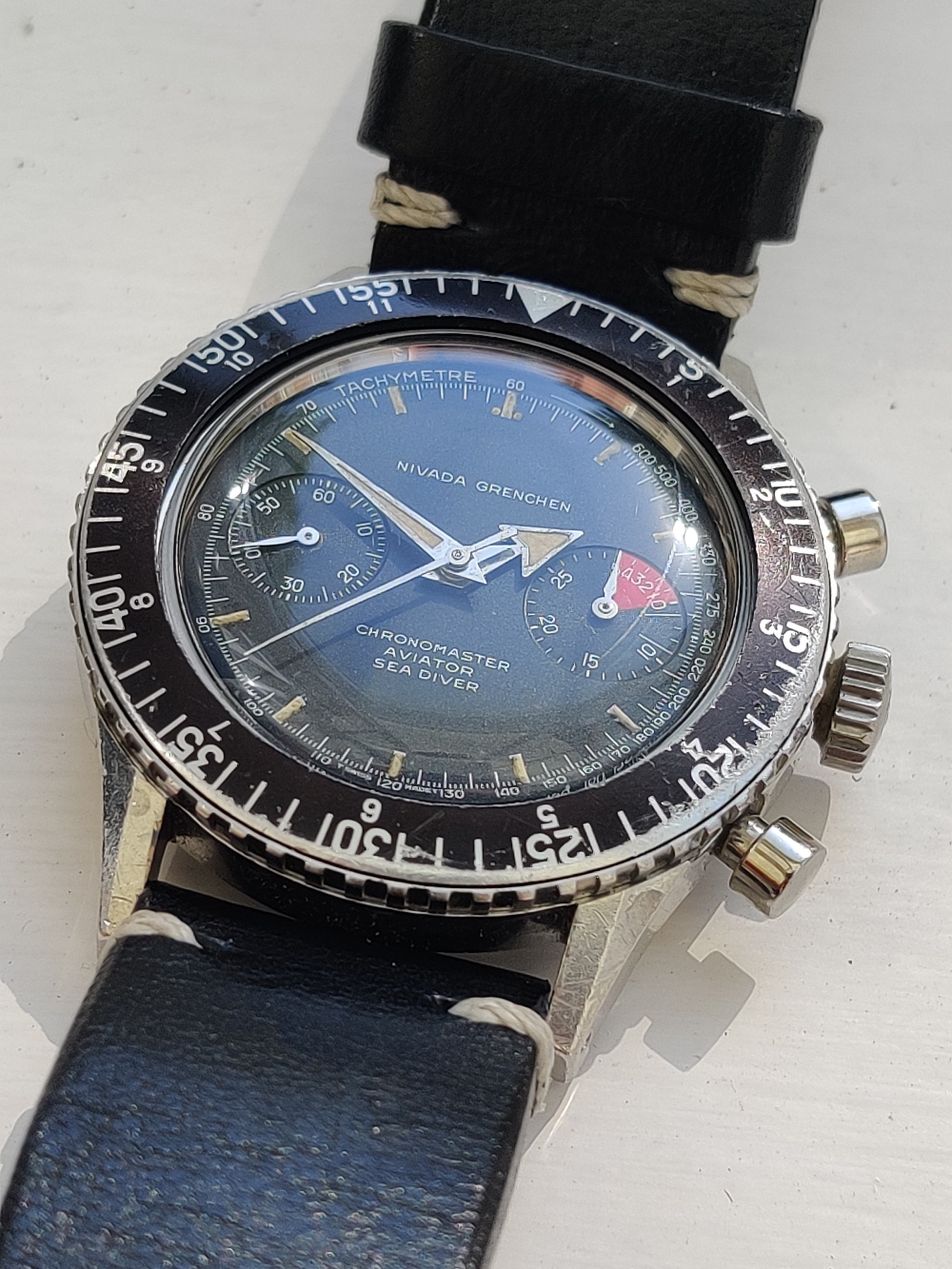 The Nivada company was founded in Grenchen, Switzerland, and produced the usual panoply of wrist watches during its early life. An American watch company, Croton, decided in the 1930s to start partnering to sell watches in the US, whereupon the (American) Movado company threw a strop as it thought that Nivada and Movado were too similar, so watches were branded NIVADA GRENCHEN instead. Later, there were also some watches sold as CROTON or CROTON NIVADA GRENCHEN but which were basically rebranded and lightly re-engineered versions of the Nivada originals.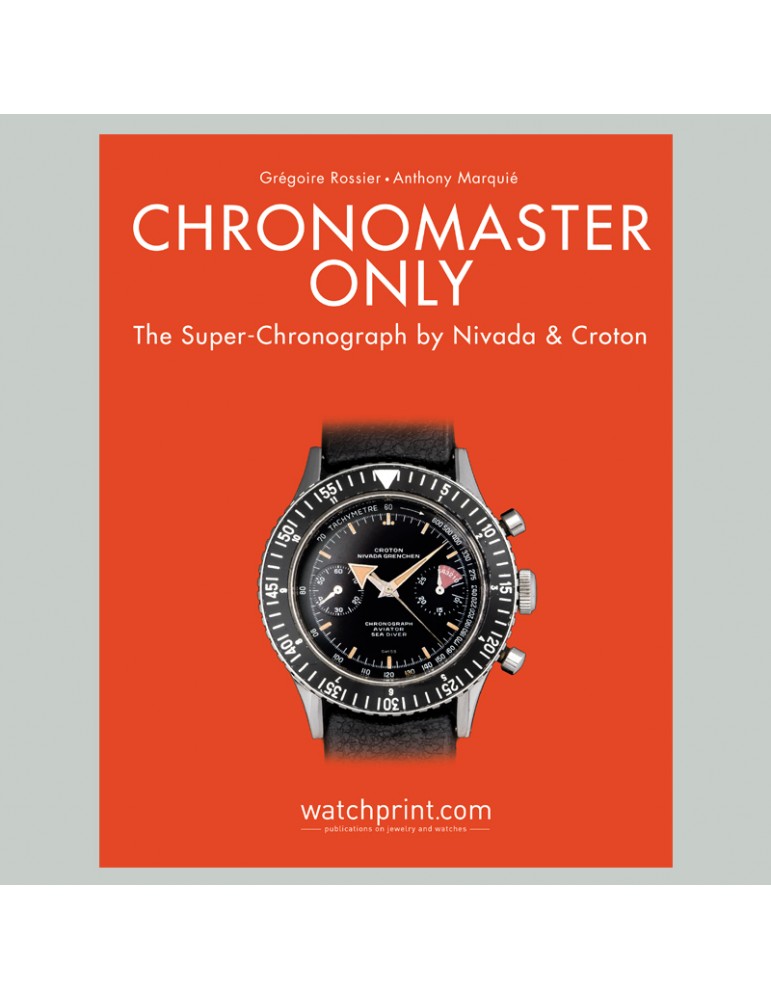 The CASD started life in 1961 and soldiered on for about a decade, through a variety of case, dial and hand modifications and with several different movements. from Venus, Valjoux and Landeron. There is a very good book called Chronomaster Only which divest into details on each of them.
This particular one was picked up on eBay and in truth was a bit of impulse purchase. It became apparent that it needed a service and it originally had a replacement hand on the 9-o'clock subdial (which shows running seconds). During the service, I had the main hands relumed with vintage looking material as they had gone a bit unpleasant looking, and I asked the watchmaker to replace the subdial hand.. which he did, but with one which looks a bit like the correct hand without actually being correct…
Anyway, aside from the bezel being pretty beaten up, it's quite a nice watch on. It has the Valjoux 92 movement and broad arrow hands, wearing the reference 8222 M 1837. The serial number dates it to around 1966.
There's a modern re-issue of the CASD if you'd prefer something that looks the part but has no hidden gremlins.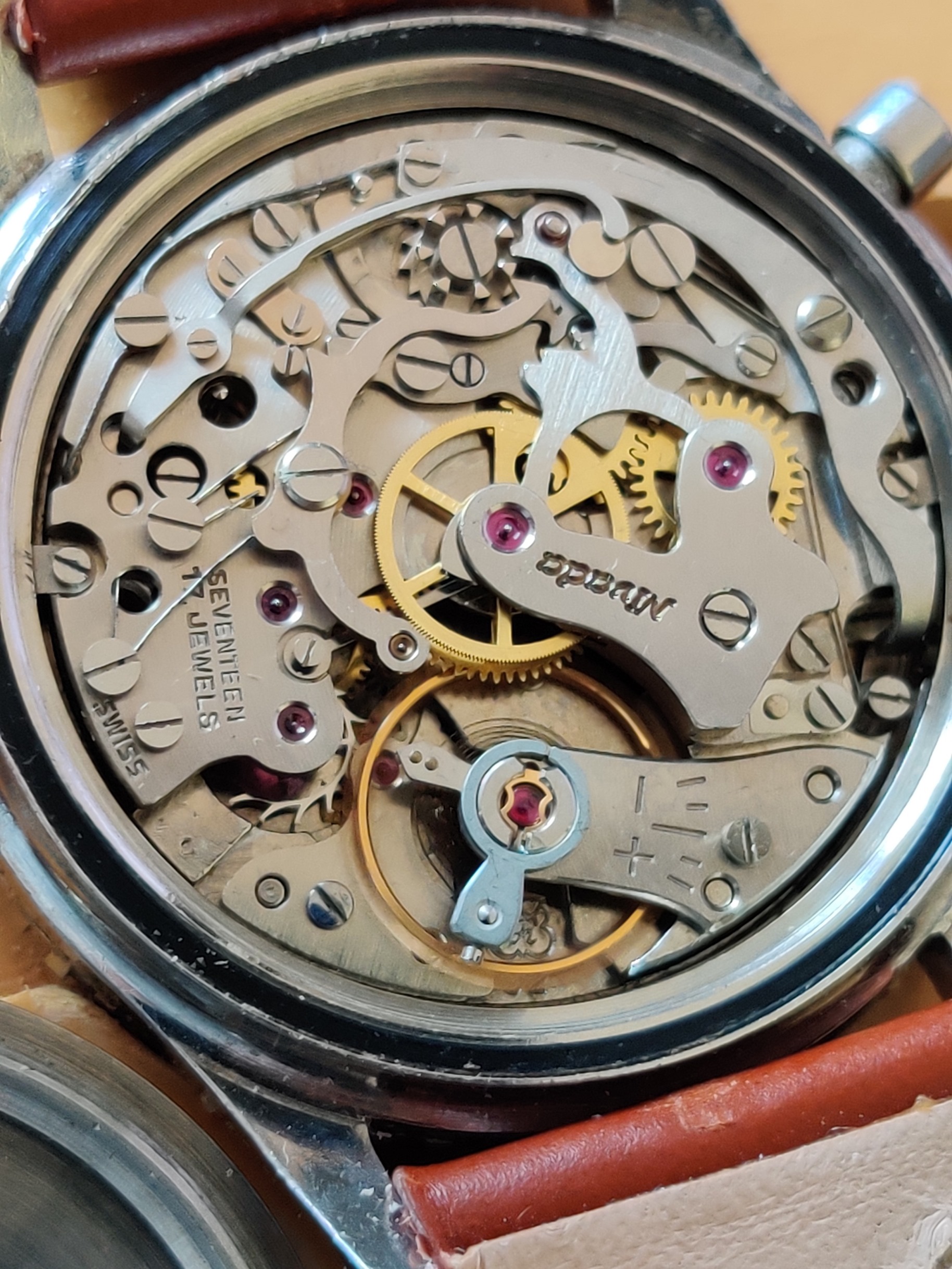 On the point of having hands and/or dial re-lumed (ie replacing the old luminescent paint), the jury is out on whether it's a good thing or not. If your watch has old lume which probably doesn't glow any more, repainting it might give you some glow-in-the-dark again and/or it might just make it look better. Some purists would say that it ruins the originality and devalues the watch but another argument would be that if the old lume is gone to the point where it makes the watch unappealing, then maybe it's better to have it redone and enjoyed better?
Here's my watch before the relume: