I have no real interest in Rolexes, at least I haven't been caught by them yet. Maybe it's down to the huge prices some command, especially when compared to otherwise very similar watches, but that is a trait shared with lots of other brands and references, like Omega's Speedmaster. Maybe it's due to the many variations and the pitfalls in authentication or in spotting watches that have been messed about with. I've no desire to learn all about them and a little knowledge can be dangerous in these shark-infested waters. That said, I do like the look of vintage DateJusts – in fact, the ideal would be a steel watch with as unfussy a bezel and bracelet as possible, but I've never managed to find one that ticks all the boxes.
But here's one that I picked up from a serious Rolex collector (and DateJust specialist) a few months before the start of the COVID pandemonium. It a DateJust 1603 which dates to 1965, at least I think so – some online serial number lookup sites say that its 125xxxx serial dates to 1966 while others reckon it could be as early as 1959. Respected Rolex collector James Dowling's Rolex history book has a reference to a 125xxxxx watch as being from 2nd quarter of 1965 – since the inner caseback of mine has "II 65" stamped on it, that's good enough for me.
It has the automatic 1560 caliber which was apparently replaced in 1965 with the slightly faster-ticking 1570, and this watch comes on a "jubilee" bracelet dated to April 65 (which might corroborate that it's from Q2 1965).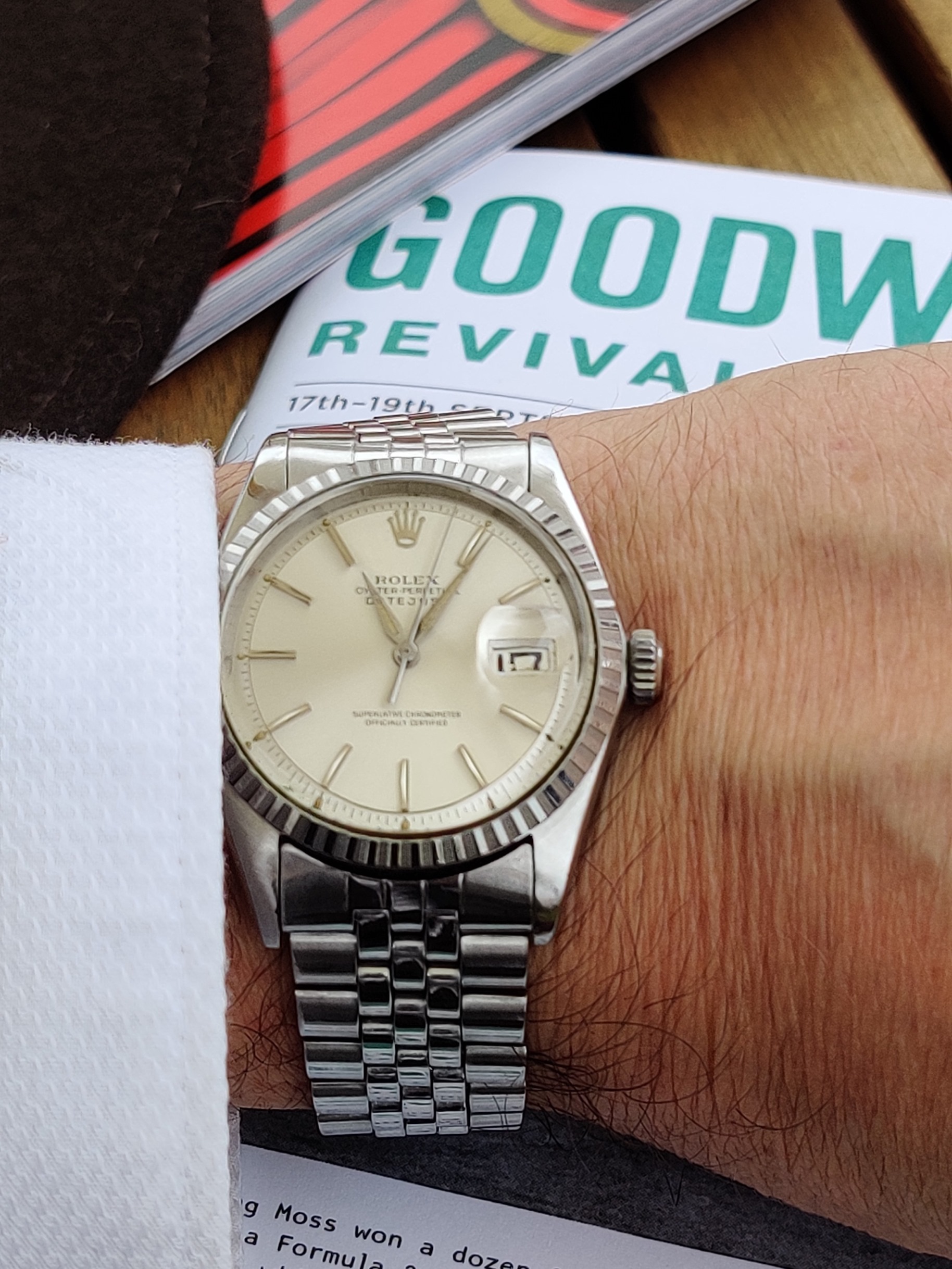 The bracelet is super comfy on the wrist and the watch is a small 36mm by contemporary standards so is very discrete. Under high magnification, it's possible to see some marks on the very edges of the "pie pan" dial but main body of it looks good. I wonder if the hands had been relumed at some point. It's a classy watch which wears well, and I like the "cyclops" in the perspex crystal too.
In practice, the most annoying thing is that it doesn't have a quickset date feature – they didn't acquire that until the mid 1970s – so setting the date is a matter of winding the hands forward or back through 24 hours to move the date one day (though some people would freak out at the thought of going backwards). If you have weeks of difference to what the date is reporting and the actual date today, it can be both laborious and risking a lack of mechanical sympathy if you need to move the hands forward for many 24 hour cycles. And leaving the watch showing the wrong day irks especially due to the magnification offered by the cyclops bubble…
The most distinctive thing about this particular DateJust is the Alpha – or Dauphine – hands. They were a special order, along with the slightly art deco looking hour markers, which are seen on a few others of the same era but seemingly not common. It has a steel "engine turned" bezel, which defined the 1603 model ref – distinguished from the 1600 with its smooth bezel or 1601 with characteristic fluted bezel.
Here it is next to the much larger Citizen Alarm Date previously featured.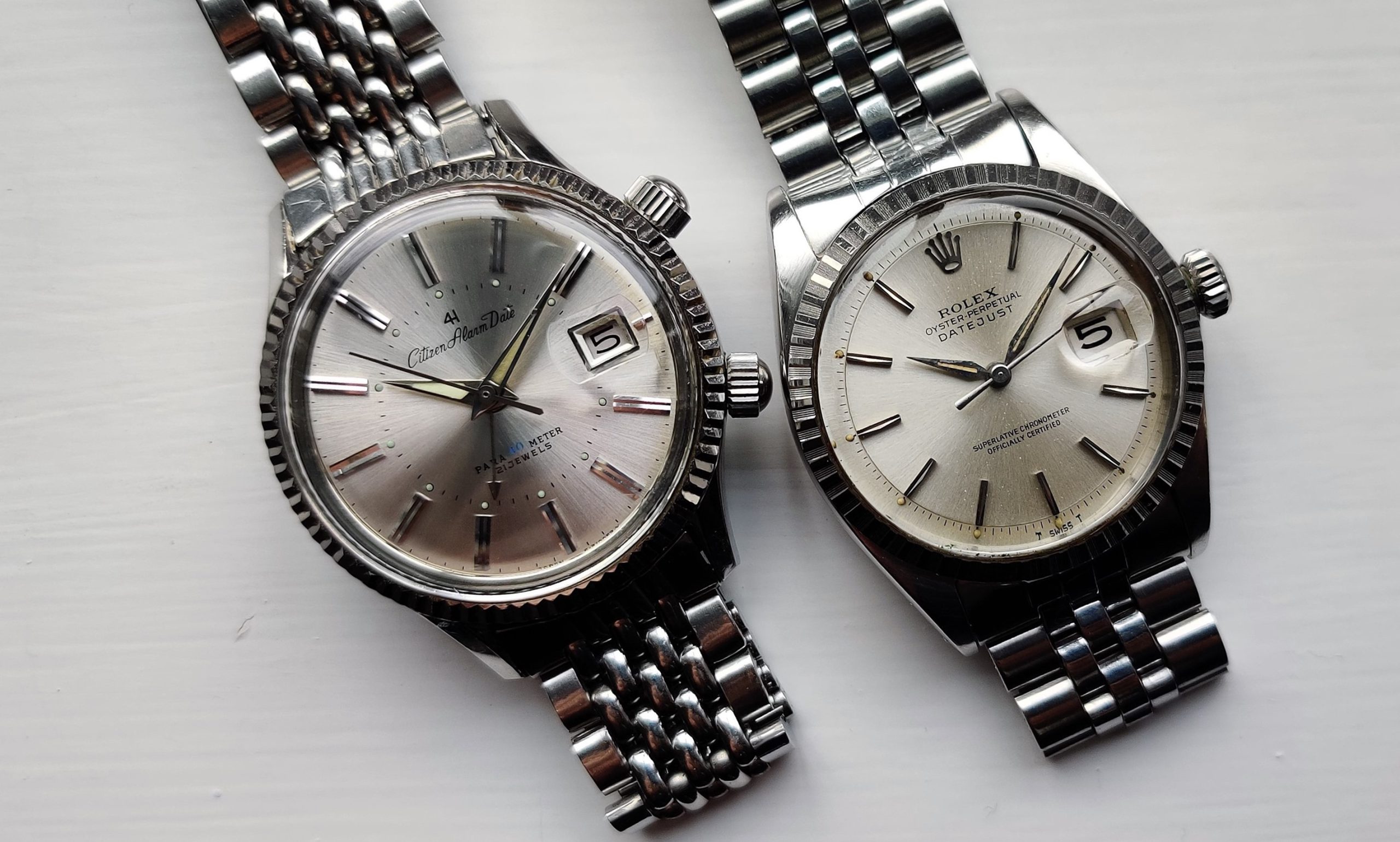 Some would say Dauphine hands are more triangular – like the Citizen's in fact, so maybe Alpha is a better description.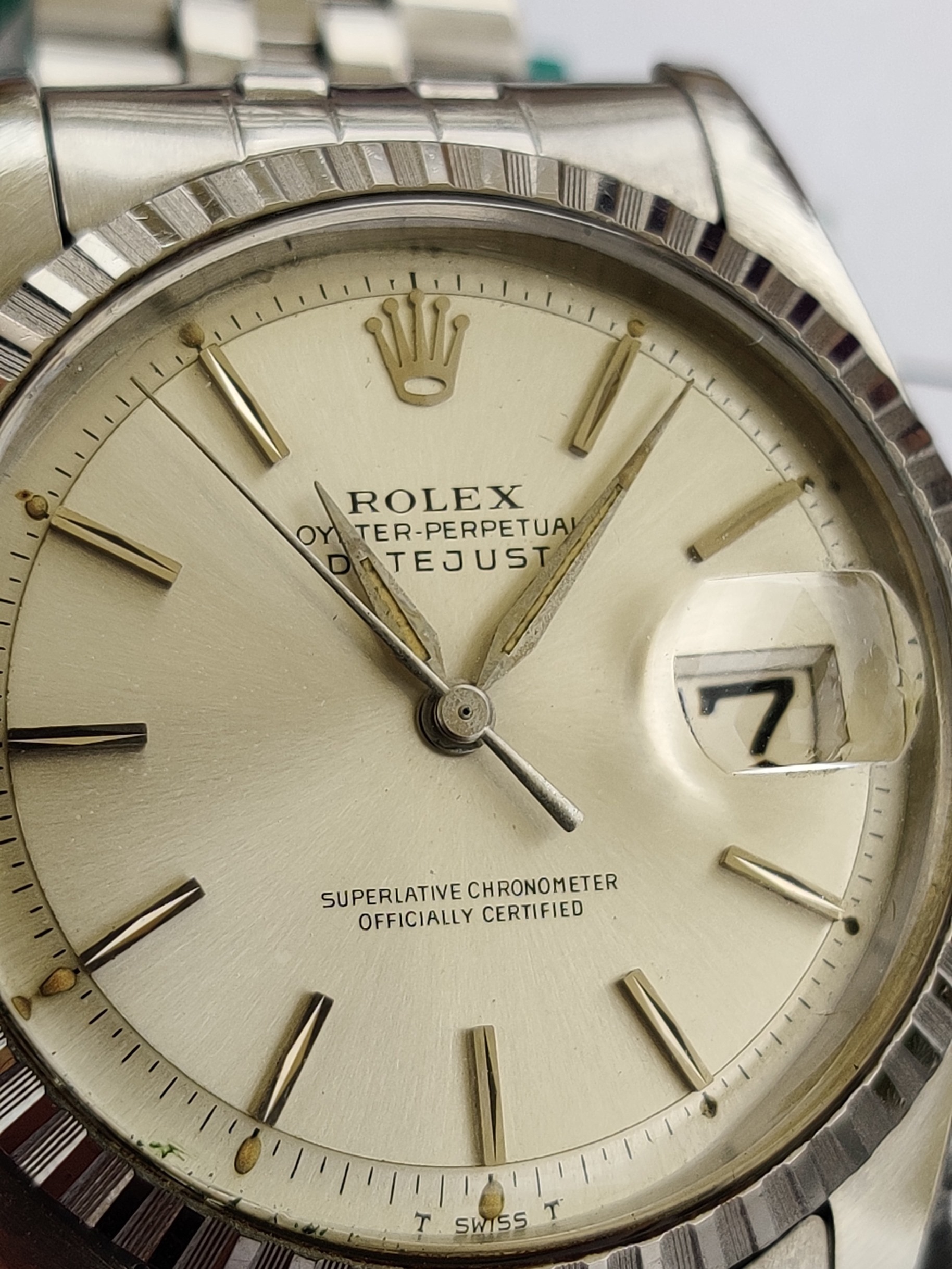 Maybe someday I'll get it to a sympathetic dial expert to replace the blobs of lume that are missing and to carefully clean the hands. The hour markers are pretty unusual, too –