It's been a bit quiet around here for a while – something I'll try to address over the coming weeks. To get back into the swing of things, here is a poser about a couple of watches with completely unrelated movements yet they look almost identical.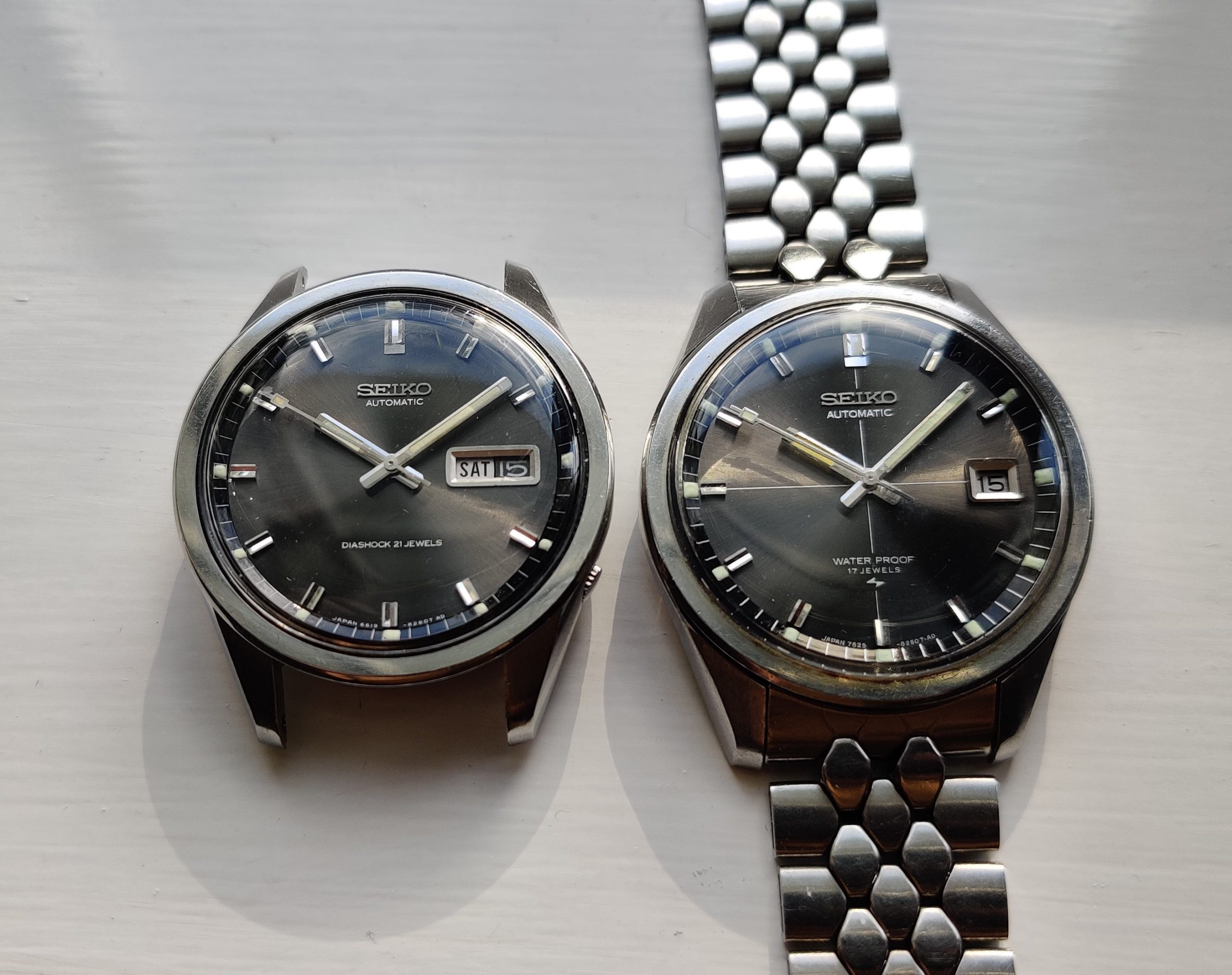 The one on the left is from September 1967, a 6619-8230 with 21 jewel 6619A movement. The right hand watch is a 7625-8233 with a lesser-jewelled 7625E movement. They're both branded Sportsmatic on the back but the 7625 has the Daini factory logo on both its dial and case back, whereas the 6619 has nothing. Both have dials with the suffix T AD, where the AD was used to denote the applied metal dial markers. The T (and if you follow this site, you'll know about the T and R dials on Pogues) is now thought to mean that the dial was either made at or made for the Suwa factory. If that is so, then it's likely Suwa made – or contracted out the making of – the dial for the 7625 and sent it to Daini, even though they were in competition for much of the time.
On the whole Daini vs Suwa thing, there are some links in Another Seiko chronograph, from Daini. It's also worth noting that for a few months, Daini had a run of 62MAS divers, which had a different type of lume on the dial which ages like tritium and goes yellow – in that case, it's probable that Suwa had the dials sent to Daini for assembly and they put their own lume in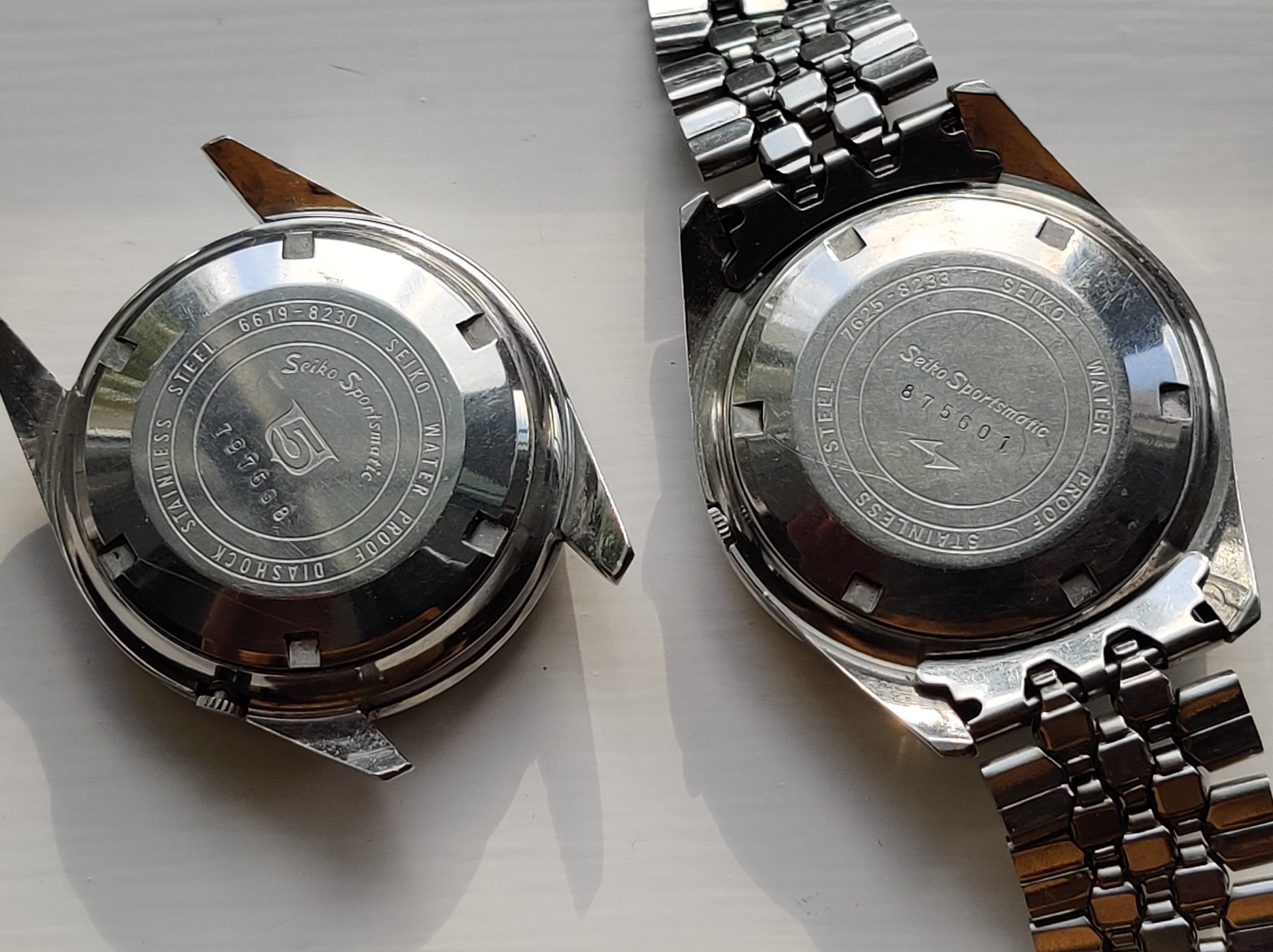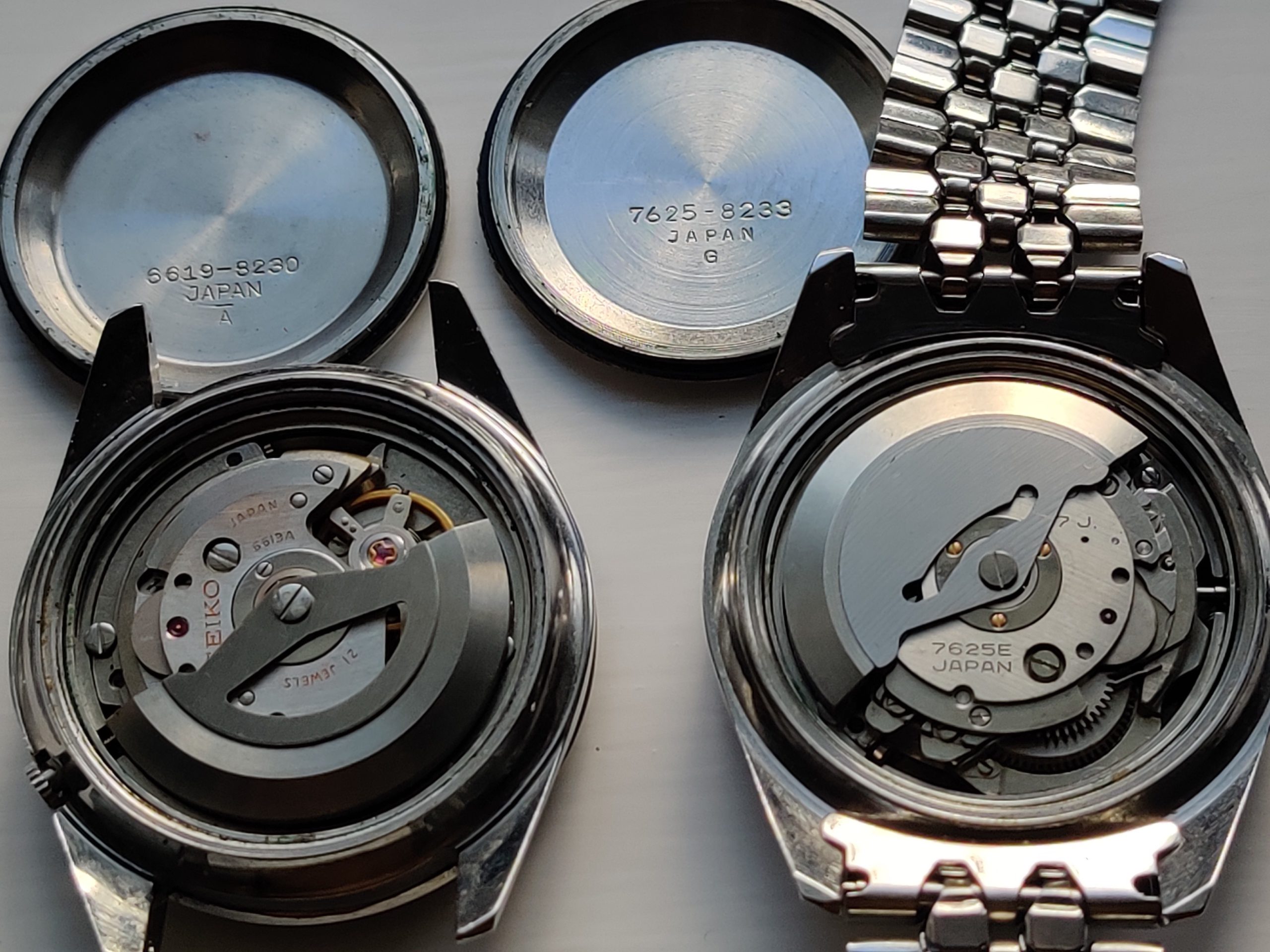 Anyway, both of these watches above size at 38mm, which is pretty big for a 1967/68 "dress" watch. Michael Stockton from Fratello Watches wrote a review of the 6619 a few years ago – #TBT Seiko Sportsmatic 6619-8230 (fratellowatches.com) – and pointed out that, like quite a few other watches from the same era, they used the same hands in the 62MAS and the same hour and minute hands as the 6105, so over the years many of these will have been sacrificed to get better hands for the (much) more valuable diver.
Anyway. both of these watches are just lovely on the wrist – and I picked up each of them about a year apart, both on crappy replacement bracelets which have since gone in the junk pile, for under £100 each.
If I realised after taking the top photo, that I should have gone round the outside of the crystal with a toothpick to get rid of some of the "mung". Lesson learned and now cleaned up a bit more…