One of the big hitters of haute horologie shook up the market in spring 1972 by unveiling a bold new design, exquisitely made from a non-precious metal yet priced well above its contemporaries – Audemars Piguet (pronounced AW-de-mar PEE-gay) unveiled the Royal Oak at a price point 10x that of a Rolex Submariner; the successor to the original watch has an RRP of a mere £21,000.
The most visually distinctive thing about the AP Royal Oak is the octagonal bezel, held in place by screws that run through the case, and numerous other watches have aped and copied the design since.
"Casioak"
At the opposite end of the pricing scale (ie ~£100), Casio released a range of watches called the GA-2100, which borrowed the octagon case shape but retained the G-SHOCK characteristics of being practically indestructible, and is universally referred to as the CasiOak. There's even a company making aftermarket cases and bracelets that are "inspired" by the Royal Oak…
Anyway, I fancied getting a G-Shock as a beater for a few years, and having read a GQ article about the GA-2100, decided I might as well pull the trigger.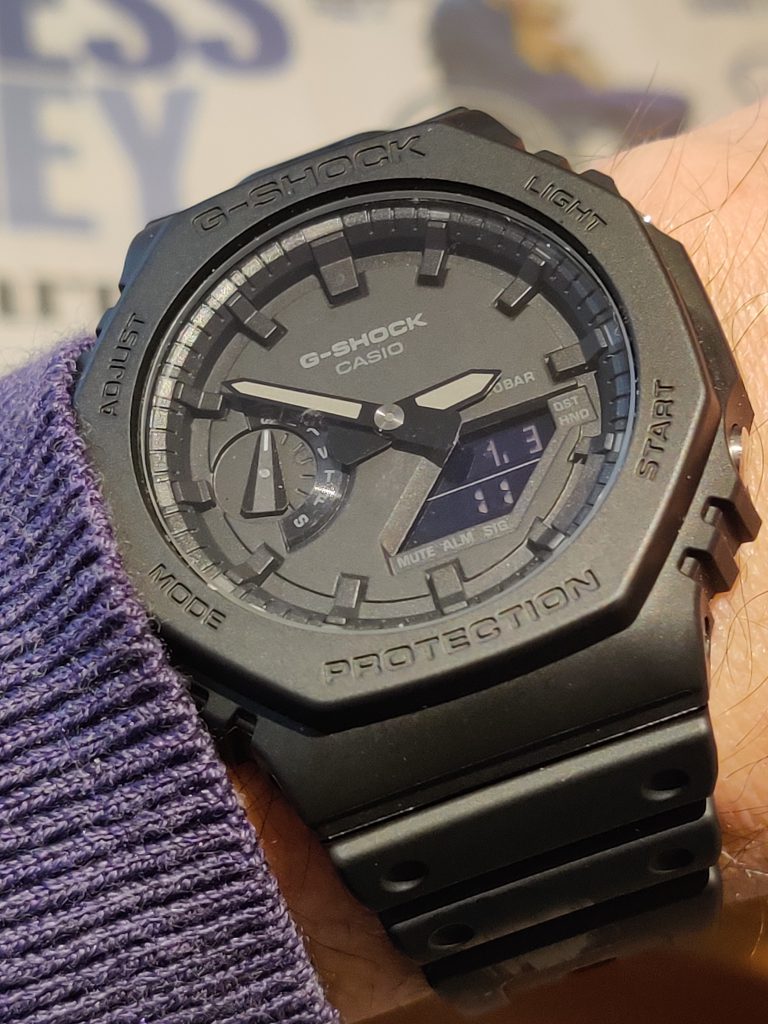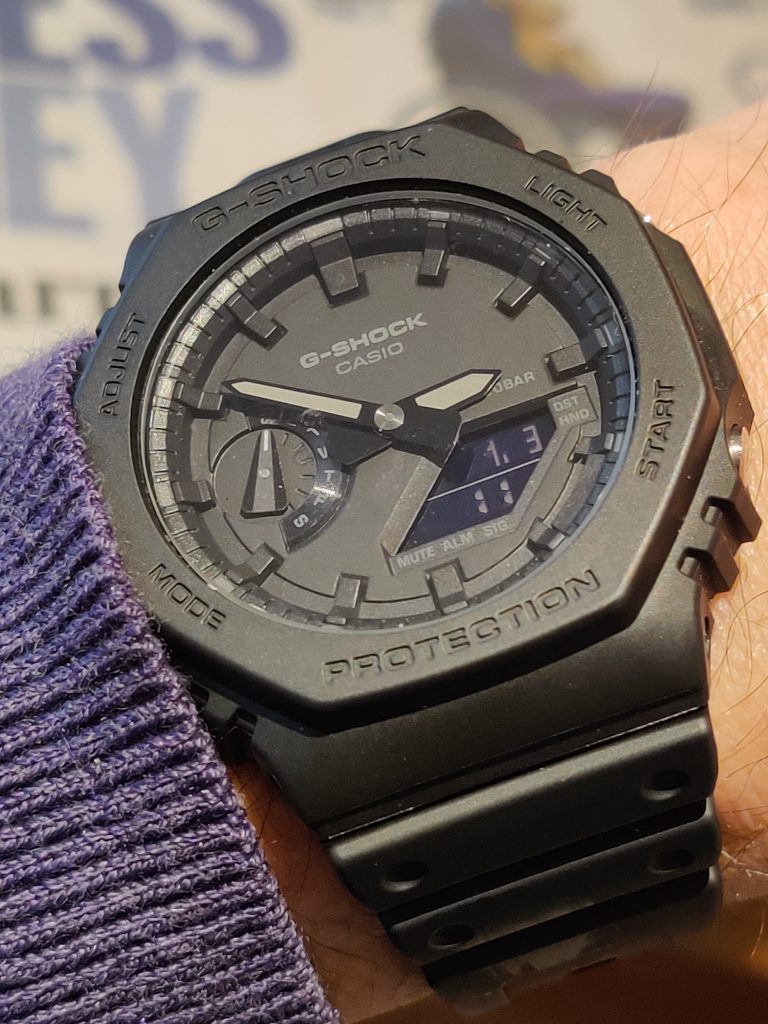 It's really light (51g) and comfortable, though this particular iteration – the GA-2100-1A1ER – the kind of watch Darth Vader would wear – can be a little hard to read at a glance, because it's so dark, and the finish does tend to accentuate any dust that it's picked up, at least in photos.
Here it is pictured next to another Royal Oak influenced watch, the Seiko 7A38-7029: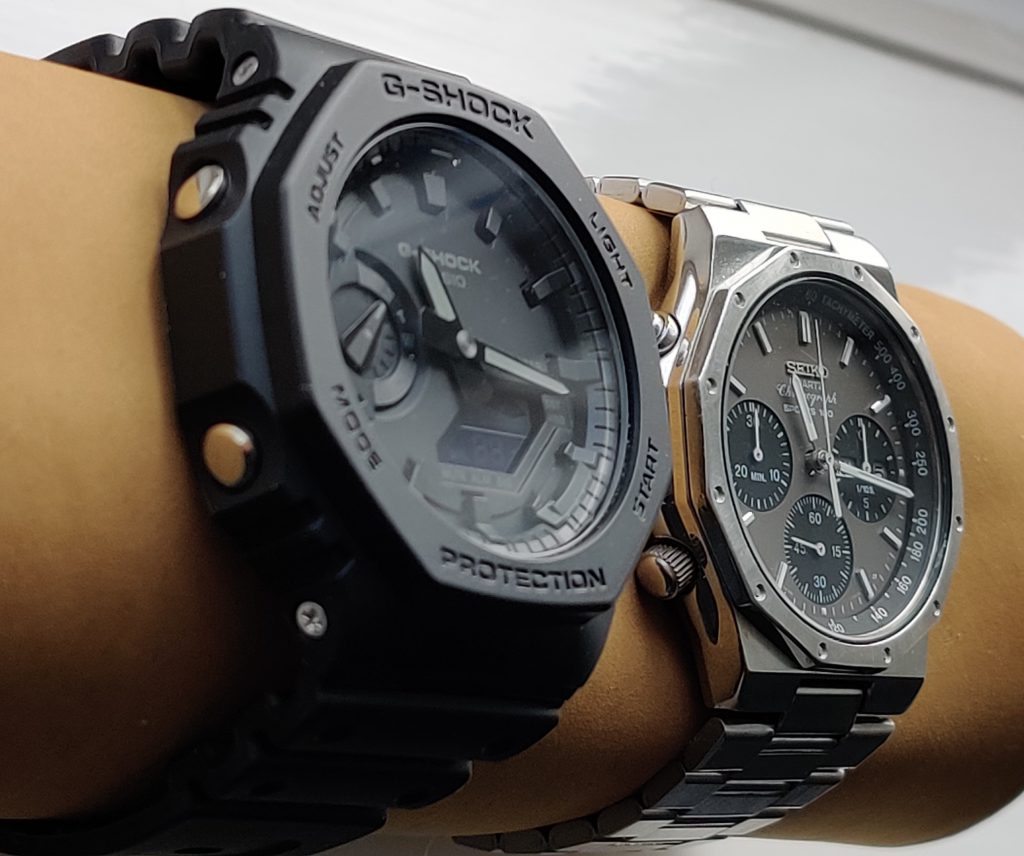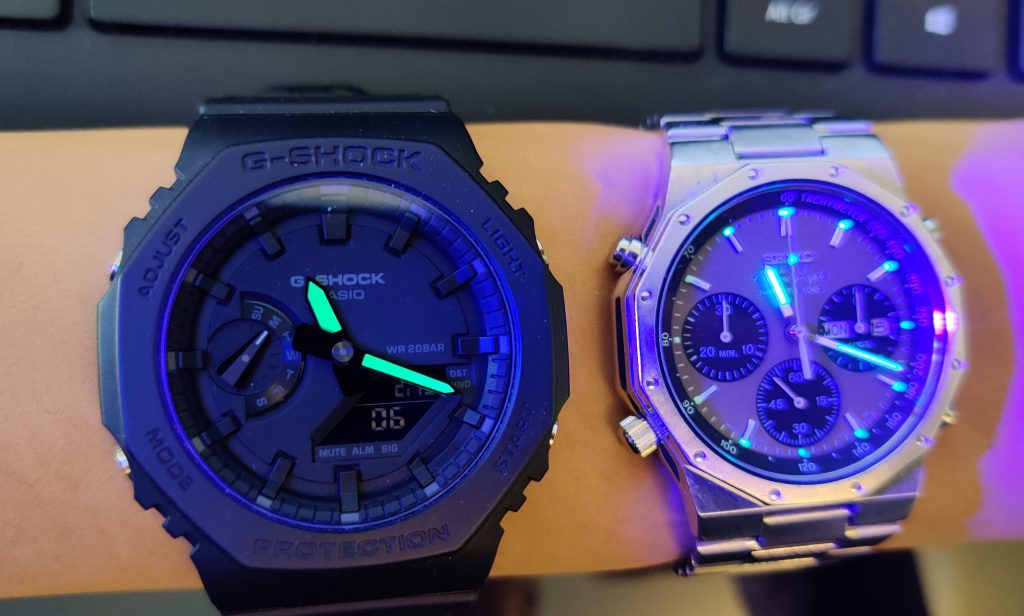 The Seiko "Royal Oak" has been covered here before – another watch which found its way to my friend Malcolm. I wished I had kept that one as I really like the size and shape (a dodecagon rather than an octagon, and those aren't screws on the bezel, just decorative dimples) so have spend the last 3 years+ looking for another.
I found this one on eBay for about 3x what the previous one cost, but we're still talking small beer in the grand scheme of vintage watch pricing. Certainly if compared against the real AP.